We may earn a commission if you make a purchase from the links on this page.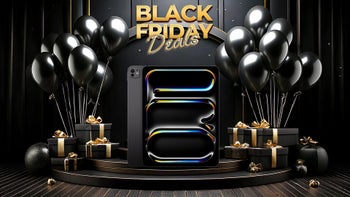 Right after the Thanksgiving dinner of turkey and endorphins, the bravest souls get up from the table, and line in front of Best Buy to grab one of those 10
iPad Pro
2021 units that are advertised at 30% off in the circular. 
We kid, as nobody does that anymore, and we will guide you through the wonderful world of the best iPad Black Friday deals for 2021, right from the comfort of your mouse or fingertip, when Black Friday comes. If you're in the market for a new iPad or just want to see what kind of price drops there will be, you'll get the heads up for the best prices right here. Right, that's enough for the intro, let's dive into our list of Black Friday iPad deals. 
Black Friday iPad deals: Apple iPad Pro 2021
Apple's popular line of tablets recently got overhauled with the first iPad Pro with a miniLED display, at a cost, so there is ample room for retailers like Best Buy and Amazon to discount the iPad Pro 2021 and other models for the upcoming Black Friday shopping spree on November 26.
They probably won't slash prices much, yet during the last Black Friday sales, the iPad Pro commanded at least a Benjamin or two of savings and the miniLED one could even see up to three shaved off from its retail tag. Fingers crossed for some great iPad Black Friday deals.
Here are the early Black Friday deals we currently have on the iPad Pro 2021:
Black Friday iPad deals: Apple iPad Air 2020
Although there is still some time before Black Friday, carriers and retailers are now starting to release some Black Friday deals.
And here's what to expect during the big shopping event on November 26. If you want an upgrade from the base iPad but don't want to spring for the big Pro models, the iPad Air is a natural choice. Just as with the other iPads, Verizon had a $100 discount on the cellular model which could be combined with an additional $100 off if you trade in a smartphone.
Black Friday iPad deals: Apple iPad 10.2″
The base
iPad 10.2-inch
got an upgrade this year, but despite that, the slightly older model from 2020 is still a good choice if you want a more affordable iPad.
So far, none of the big retailers have Black Friday discounts on the iPad 10.2, but as the shopping event approaches, we expect to see discounts pop-up pretty soon.
Here's what we saw in terms of discounts on Black Friday last year. Verizon was selling the new-at-the-time iPad 2020 for $359.99 with extra $100 in savings available to anybody that trades their old phone. Newegg had a decent discount, too, but the Best Buy offer of $329.99 still stands to this day. Right now, this is one of the best discounts you can get.
Black Friday iPad deals: Apple iPad mini 6
The iPad mini 6 is a new addition to the iPad lineup. It is one of the best compact tablets right now. With its redesigned, lightweight build, perfect for one-handed use, the 2021 iPad mini is arguably the best premium tablet for reading and note-taking.
Black Friday Apple iPad deals: iPad Pro 2020, iPad Pro 2018, iPad mini 2019
The slightly older models of the iPad Pro, and the iPad mini are still a good choice for you if you want a powerful Apple tablet, but you don't want to spend a lot of money on it. Here's the Black Friday deals on the iPad Pro (and iPad mini) from the past.
The older iPad mini model from 2019 will also be generously discounted in time for Black Friday. Last Black Friday, Verizon was asking just $429 for the 64GB cellular iPad mini model, down from $529 while for the Wi-Fi only model, Best Buy unveiled a stunning $100 off, making it an excellent deal at just $299 during the last Black Friday iPad deals spree. On Black Friday 2021, the iPad mini deals will get many a faithful buyer indeed.
We expect the two sizes of the iPad Pro from 2018 to be discounted for Black Friday as well, and renewed versions of the iPad Pro will most likely have an even steeper Black Friday discounts.
The most powerful tablet in Apple's lineup — the iPad Pro — was available with several iPad Black Friday deals last year. If cellular connectivity is a must, Verizon dropped the price of both iPad Pro models by $100, and if you had any old phone to trade-in, the carrier took an additional $100 off the iPad Pro price.
Of course, by this Black Friday 2021 edition on November 26, the previous iPad Pro models will still be a great choice and an even better value over at Amazon which had the 2018 iPad Pro significantly cheaper, and the the oldie 10-inch iPad Pro could be picked up for a record low price with Wi-Fi + Cellular capabilities.
The renewed larger 12.9-inch iPad Pro went for the price of a new 10-inch iPad Pro on Black Friday, too, which we could reasonably expect to happen on November 26 as well. Let's see what kind of Black Friday iPad deals we'll get this time round!
Who has the best Black Friday iPad deals?
Again, Apple devices are rarely discounted officially before the new generation which usually means that the retailers have very limited batches of them on sale over Black Friday as doorbusters to lure you in.
So, there you have it. We are set and in place to bring you the best Black Friday iPad deals this 2021. From the iPad mini deals through to the full-fat 2021 discounted releases, we'll have the best Black Friday iPad deals waiting for you. Check back soon, and brace yourself for some serious savings. And, of course if there are any early Black Friday iPad deals, we'll update that too.